The Women of GLH
"As a female leader in a blokey industry, I am honoured to be able to employ and work with some really talented and skilled ladies. The ladies that work for GLH Rail & Civil fill a variety of roles from Diesel Fitter to Plant Operator to Admin. I really admire their fearlessness and their passion in an industry that can be pretty rough at times".
Kelly Cooke – Joint Managing Director GLH – George's Loader Hire.








GLH is awarded the contract for Wet Plant Hire as part of the Rail, Integration and Systems (RIS) Works for the Cross-River Rail project, by CPB.
George's Loader Hire continues it's involvement in every major rail project in QLD, having being awarded the contract for Wet Plant Hire as part of the Rail, Integration and Systems (RIS) Works for the Cross-River Rail project, by CPB.
"We are honoured and excited for the opportunity to perform an integral role in Queensland's latest rail project" said Kelly Cooke, Director of George's Loader Hire. "As important, is how our involvement in this project allows us to provide a secure and ongoing working environment for our dedicated and loyal team here at GLH. A fact that we don't take lightly, especially with the enormous challenges experienced by so many businesses currently".
These sentiments were also shared recently by Kate Jones, Queensland Development Minister.
"Major State Government-funded infrastructure projects are crucial to Queensland's economic recovery," Ms Jones said.
"Right now, Cross River Rail is already supporting more than 2,000 jobs. At the height of construction, that number will be more like 3,000.
"But it's the flow-on effects to local businesses that will help to stimulate our economy when we need it most."
More than 90 per cent of Cross River Rail contracts have gone to Queensland-based companies.
"Local contracts mean local jobs – that's what this project is all about," Ms Jones said.
GLH has always been a family owned and operated business since its inception in 1994. Their people are their focus, ensuring the most skilled and experienced are part of the team. In addition, GLH lead the industry through innovation with their equipment and attachments built for purpose on-site at their workshop in Willawong.
The newest addition to the GLH fleet - QR Approved Hi-Rail Articulate 10T Dump Truck
GLH's commitment to the rail industry has long been underpinned by continual innovation in specialised rail attachments and machine systems to make machines more productive, functional and safe in the rail environment.
Introducing the Hydrema Hi-Rail Articulated Dump Truck which is a small, agile and robust truck, for use on rail and off-track. The Hydrema is well known around the world for its supreme performance, ease of use, low weight and great durability.
This dump truck provides an effective, high performance day in day out hauling solution and enables fast and efficient transport of materials on and off track with;
Flexible rail modules (operates on narrow gauge)
Compact dimensions
Large 10 tonne load capacity
Stability even when working on inclines and unloading over the side
A top speed of 35km per hour
Versatile rear and side tipping action
George's Loader Hire currently has 2 x Hi-Rail Articulated Dump Trucks that are available for wet hire.
South East Queensland plant hire firm poised for growth
Brisbane-based rail and civil plant hire firm GLH has positioned itself as a key player in Queensland's transport infrastructure boom.
Operating from their maintenance workshop in Willawong, the team from George's Loader Hire (GLH) has become a trusted supplier of equipment for both the rail and civil sectors in South East Queensland.
With heavy, metro and light rail construction gaining momentum in South East Queensland, GLH is poised to increase their significant involvement within the industry.
Already one of Queensland Rail (QR)'s largest rail maintenance suppliers, GLH boasts a large fleet of excavators and loaders, all of which are compliant with QR standards.
The GLH fleet is a mixture of hi-rail and non-rail. It includes a hi-rail haul truck, and will soon include a hi-rail elevated work platform…Read the entire Rail Express article here.
The newest addition to the GLH fleet - 8T Hi-Rail Excavator Dual Gauge
Our 8t hi-rail excavator has proved to be quite versatile. It has been working on clean-up of the GCLR stage 2 (standard gauge) with ballast broom attachment, and on the Helensvale-Coomera duplication (narrow gauge) with undercutting attachment. The newest addition to the GLH fleet has become quite popular for all sorts of maintenance jobs in and around the South-East Queensland network.
New Volvos for GLH in 2017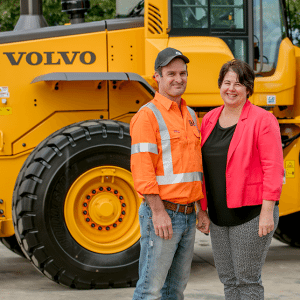 Cameron and Kelly have taken delivery of their first new Volvo Loaders from CJD Equipment.  Looking shiny for one time only, GLH will be putting the new L70F, L90F and L110F loaders into the rail fleet.  This is part of an overall program to ensure the fleet is modern and efficient, ensuring less downtime for customers.
GLH Launches New Branding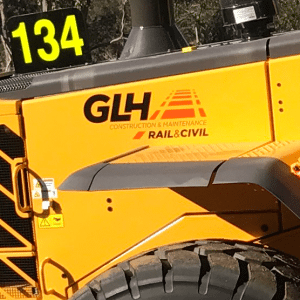 "Our foundations are built on experience – our future is forged through innovation" is the statement that perfectly sums up the basis for the GLH re-brand, launched early August 2017.
In one respect, bidding goodbye to the much recognised black & blue GLH brand that has been in existence for 6 years, was an emotional one for brother and sister directors, Cameron Baird and Kelly Cooke. George Baird their Father and founder of George's Front End Loader Hire in 1994, was a legend within the Rail, Recycling and General Materials handling sectors in SEQ. However, 2009 saw the end of an era with the sudden passing of George. In 2011, Kelly and Cameron took the reins establishing George's Loader Hire PTY LTD.
"The decision to consider a re-brand was not an easy one" said Kelly Cooke. "Cameron and I knew Dad would be proud to see how we have successfully grown and diversified the business, but we did not want to dishonour his memory by changing the brand he had made so recognisable". Instead, the directors decided to approach the re-brand as a way to honour George's memory and ensure his legacy lives on. "Part of our decision to re-brand, was to better showcase the many services and range of equipment we now provide the Rail and Civil sectors" said Cameron Baird. "We are also very proud of our commitment to the rail industry, by continual innovation in specialised rail attachments and machine systems that make for a more productive, functional and safe rail environment'.
The new brand is been rolled out strategically during the remainder of 2017. The relaunched website and range of collateral is already sporting the new look, as well as 'one time only' shiny new Volvo Loaders (L70F, L90F and L110F) recently added to the rail fleet.
Abergeldie and GLH
In conjunction with Abergeldie, GLH is working in at the Mayne Stabling yards over the next few months, putting in services for the new trains.
AusRAIL 2017
AusRAIL PLUS 2017 is being held at the Brisbane Convention & Exhibition Centre on the 21 – 23 November 2017. We invite everyone in the industry to visit us at this premier Rail Sector event. GLH will be located on stand 656.
Mentoring Program
GLH is one of 10 Queensland companies selected to be part of a business mentoring program which will see our engineering innovation taken to market.
Initially designed to meet Queensland Rail specifications, our height limiters are made for purpose, using modern Canbus connected sensor and processor technology in the background with a simple user interface. They calculate and limit several machine functions to give the operator best utilisation of the machine under the set height limit.
http://statements.qld.gov.au/Statement/2017/1/31/cq-rescue-device-lighting-the-way