THE GLH FAMILY
The GLH family comprises over 30 years collective rail industry knowledge at a management level coupled with probably double that at an operational level.  We can draw on national wide rail experience within the team, engineering know how, technical expertise and business skills.
Kelly Cooke
Director – George's Loader Hire Pty Ltd and G Fleet Holdings Pty Ltd
Kelly shares her father's vision and is very passionate about the business and her team.  She obtained a Bachelor of Business from University of Queensland in 1992 and is primarily responsible for Finance, Human Resources and Safety.
The most rewarding part of her role is being able to manage this business successfully which enables her to provide people with a secure job and provide her family with a secure future.  She also finds it rewarding knowing that she is carrying on the legacy of her father and that GLH's innovations set the benchmark for the Industry.
Her strength's comes from the people around her – her family and the GLH team who are the motivation for her to keep kicking goals.  Her individual strengths lie in her ability to organise, set goals and achieve along with her interpersonal skills.
In her spare time she loves to travel and spend quality time with her family at Rainbow Beach.  She loves wine, food and the great outdoors.
Email: Kelly@glh.net.au
Cameron Baird
Director – George's Loader Hire Pty Ltd and G Fleet Holdings Pty Ltd
Prior to becoming a Director, Cameron worked with George in the business and so has an intimate knowledge of the Rail Industry.  Cameron is a trade qualified Diesel Fitter.  His primary responsibility in GLH is to oversee the Fleet including Asset purchases and sales and maintenance and compliance.
Email: Cameron@glh.net.au
Brad Cooke
Mechanical Engineer – George's Loader Hire Pty Ltd
Brad is a hand's on Engineer who oversees the design and manufacture of our specialist rail attachments and modifications including GLH's own height limiter system, designed with modern microprocessor and sensor technology and a simple user interface to meet the new Queensland Rail specs for working under Overhead wires.
Brad has an Associate Diploma of Mechanical Engineering and has worked in the Northern Territory and New South Wales and Queensland on various hydraulic and R&D projects, prior to joining GLH as part of the family succession.
Email: Brad@glh.net.au
James Welch
Operations Manager – George's Loader Hire Pty Ltd
James brings 18 years of rail and road construction experience to the table with significant skills around the planning and allocation of man and machine on a large scale.  In NSW James was responsible for the allocation of plant from 450 companies to serve the NSW rail industry.  At GLH he oversees a large fleet of machines and a large group of operators and spotters as well as a broard customer base from rail to recycling.
Email: James@glh.net.au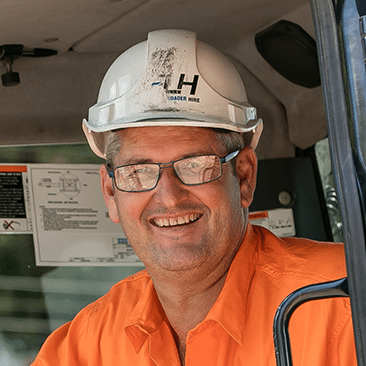 Chris Hargrave
Senior Operator
As Senior Operator, Chris has been involved in all of GLH's major projects including Darra to Richlands to Springfield rail construction and Moreton Bay Rail construction.
Having worked for the company for over 8 years, Chris finds success in his position by knowing he is part of GLH providing their clients with exceptional service.  His strengths lie in clear communication and helping other to achieve the high standards required in their roles.
Outside of his career, Chris enjoys being healthy and trying to maintain a family life.
Mark Hibbert
Earthmoving Tyre Fitter
Otherwise known as Tyrebro, Mark is an extremely professional, experienced and qualified earthmoving tyre fitter.  Mark ensures the GLH fleet tyres are maintained and performs tyre fitting and repair work for a vast array of GLH customers.
Email: tyrebro@glh.net.au
Sayeed Ali
Lead Diesel Fitter – George's Loader Hire Pty Ltd
Sayeed started with GLH in 1998, bringing with him 20 years of experience in heavy industries. He organises parts, schedules maintenance or repair time, and communicates with fellow workmates and customers efficiently.  His knowledge of mechanics and equipment gives him the ability to diagnose and repair on time and efficiently.  He also communicates with the sub-contractors for proper repairs of the machines.
In his spare time, he likes to go fishing, watch NRL, union and soccer and also spend quality time with his family.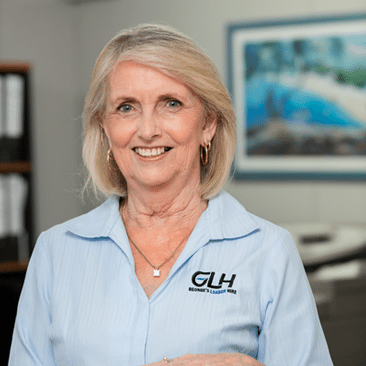 Dodie Smedley
Administration Manager
Dodie is another long serving team member who keeps the office running and the cash flow moving.
Cameren Triplett
Operator
Daniel Robertson
Operator
Derek Watson
Float Driver – George's Loader Hire Pty Ltd
Coming up to 10 years with the company, Derek gets our loaders and our customers loaders delivered on time and incident free.
Mackenzie Baird
Apprentice Diesel Fitter
Stephen Lewis
Operator
Stephen's position at GLH is a multi-skilled plant operator and he has been working for GLH for 5 years.  He has been in earthmoving his entire career – self-employed as a machine operator for 15 years and in the mines for 6 years.
He takes a great deal of pride in his work and gets most satisfaction out of seeing the job done right and everyone going home safe.
He's been involved in some major projects with GLH including Moreton Bay Rail and the SEQ Stabling Yard project where he performed tasks such as Walkways,  Drilling mast holes, Laying sleepers, placing rail, placing ballast, Boxing up, moving concrete and materials, trenching, drainage, bond wires, stoppers, Assisting welders with IRJ's and closure rails, moving rail, Corrections.
He considers his strengths to be his operating, safety and customer service skills.
In his spare time he enjoys spending time with family, camping, 4wding and fishing.